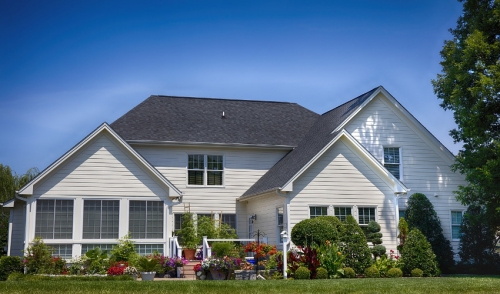 Beauty may be skin deep, but when it comes to siding, at least, looks are everything. Google search "siding curb appeal" and help yourself to the roughly 1.5 million links on that topic, many leading to real estate agents' pages eager to point this fact out.
But here's the paradox: The people who own the house are usually in the house, looking out, not outside the house looking in. What they're looking at right now is their kitchen, their bathroom, their boring den. If they want to change something, that's probably where they're going to start, buying what they can touch and feel, such as a granite countertop or a walk-in tub. That makes a siding job somewhat like a Christmas-light display, observes Tara Dawn, co-owner of Opal Enterprises, a suburban Chicago home improvement company: "So much effort, and we don't look at it. It's all for other people."
Not Mission-Critical
And even if they're budgeting for the exterior, which some homeowners will do, there's the fact that a re-roof, when needed, is non-negotiable and dysfunctional windows get next priority. "Siding's not as mission-critical as a roof or a leaky window," says Mike Damora, vice president marketing and sales for K&B Home Remodelers, in New Jersey, and regular contributor to Pro Remodeler.
To some extent, cladding suffers from its own success. The life span of different siding materials, when properly installed, ranges from 30 years for aluminum and vinyl to as much as a century for fiber cement, stucco, stone, or brick. Even wood, the notoriously high-maintenance cladding that many others imitate, can last a long time, if regularly maintained.
You may wonder, then, how there could be any market at all for re-siding, but by 2019, according to Freedonia Group estimates, some 100 million squares worth close to $11 billion will be sold. But as good as siding products are, all bets are off if installation proves inept, if hail storms come through, or if the product simply does what everything eventually will, which is to wear out. In the case of vinyl, that could take the form of bubbling, buckling, tearing away in high wind, warping, or fading.
Sometimes the point is pressed when a tired-looking property has to be sold. And sometimes homeowners get tired of maintenance expense. Siding as an alternative to regular painting "is still very relevant," Damora says. "Though it's kind of a ZIP code thing. There are situations where you have wood that's no longer going to take paint. If I were a canvasser I'd think: Bingo!"
This article was originally posted on Proremodeler
To view this article in its original form, Click Here!